Saturday, October 31st, 2009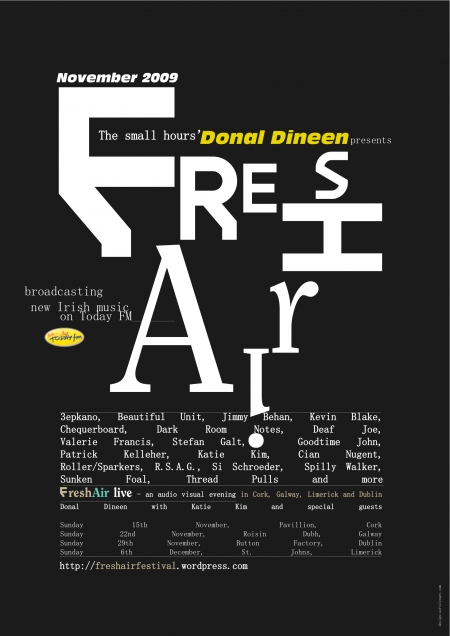 I'm delighted to be a guest on Donal Dineen's radio show on Today FM as part of his Fresh Air Festival running throughout November.
The show was aired on Thursday 26th November, 12 – 2am.
Jimmy Behan interview with Donal Dineen | Today FM by jimmy_behan
"Fresh Air is a free music festival that will be transmitted directly into your ears via The Small Hours on Today FM. Donal Dineen has chosen his pick of the best new Irish sound makers to take part in a month-long celebration of great new music, live on your radio.
For the month of November, Donal will have a invited guest act live on air for The Small Hours to play live, chat to Donal and play a selection of their own favourite tunes, effectively curating the show for the night.
The Small Hours is on Today FM from midnight – 2am and the shows are archived for a week right here. We've plans to do something special and longer lasting with the archive of the Fresh Air shows, but stay tuned for more on that." (from freshairfestival.wordpress.com)
http://freshairfestival.wordpress.com
http://twitter.com/fresh_air_fest
Donal's Small Hours show on Today FM.