Days Are What We Live In
---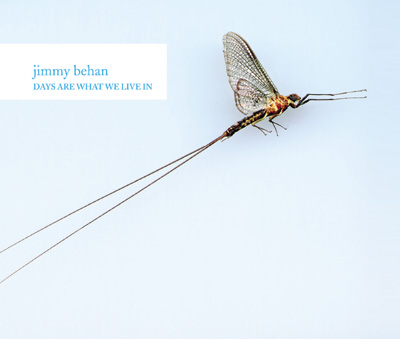 Days Are What We Live In
(CD Digipak | Download)
Released: October 2004
Label | CatNo: Elusive Recordings | ERCDLP2004
Buy full album for €1 from Bandcamp.
01. Granby Row
02. Mayfly
03. Deeper Than Heaven
04. Complete
05. Days Are What We Live In
06. Hanover
07. Summer On The Wall
08. Dandelions
09. Normal Situation
10. Under The Woods

Written & produced by Jimmy Behan.
Mastered by Frank McGing.
Design by Kevin Horan.
© 2004 Elusive Recordings


REVIEWS:
Irish Times
You might think that making an electronic album that coos sweet nothings into your ear is as easy as putting one foot in front of the other, yet many have come a cropper with that maneuver. Simplicity is often the hardest thing of all to craft, so kudos to Carlow-born Jimmy Behan for this audacious debut. Behan's previous work has shown many hints at a masterpiece and Days Are What We Live In is something of a spectacular Rothko in this regard. Superior melodies glisten and shimmer on Granby Row and the title track before fading softly into the background to allow another splash to shine. Nina Hynes's vocals ghost in for Deeper Than Heaven, embellishing Behan's soft, sure control on the pitch and mood. Often dramatic but always alluring.
Jim Carroll. 4/5
Hot Press
Dublin producer Jimmy Behan has shown his promise with EPs on Kin recordings and his contribution to the Elusive label compilation last year, but how will he fare over the course of an album? Thankfully, Behan has the maturity and talent to make his sound work in this context and his fusion of ethereal folk and haunting electronic textures has been compared to Nick Drake fronting Boards of Canada, and the analogy isn't erroneous: this album's greatest strength lies in its ability to painstakingly draw from the organic and the synthetic, and in the process make something of unique beauty.
RB. 9/10
Sunday Tribune
This much anticipated debut from Jimmy Behan merges electronica and folk to create a warmly sophisticated album. Behan's collaboration with song-writer Nina Hynes, Deeper Than Heaven is the standout track. Days Are What We Live In has a dreamy ambience, with some of the tracks so understated that they almost pass you by, not because they are insignificant but because they are so hypnotically somnambulant. These songs are lonely but warm, glacial but gorgeous.
EC.
Stylus Magazine
Quite simply, Jimmy Behan makes beautiful music. Days Are What We Live In sounds like hummingbirds making love, like the microscopic poetry of mayflies casting verse before the pass painlessly away. Finding a logical home on Ireland's perpetually pleasant and melodic Elusive Recordings, Behan's specialty is composing ambient lullabies for the summertime, weaving tunes together from gossamer threads that seem so faint, they might not even exist. Occasionally a movement establishes itself amid the tiny details: an organ, a guitar, a piano, a voice or the faintest pulse of a beat might emerge from the electronic landscaping, but they never overwhelm it.
Behan is less abstract than Susumu Yokota, less given to attention grabbing spurts of jazz dissonance than Fourtet, more microscopic and less dubbed than The Orb, less disconcertingly terrifying than Aphex Twin. Whether this pleasant ambivalence makes his music less memorable or innovative than any of these artists is a moot point – you're not really meant to remember ambience.
That this lovely, summery record arrived in midwinter is an irony, especially when we are beset on all sides by influenzas and noxious tummy bugs. It does however mean that Days Are What We Live In serves as a beautiful reminder of what summer days can be like.
Nick Southall.
Angry Ape
A musician blessed with an equal talent for warm melody and production values as his vast influences. Carved by an incessant use of electro-acoustic loveliness and future folk oddities, that suggest the fruit of Behan's art is born out of necessity and drive for self-expression, instead of a usual and blatant derivative formula. From here, things only get seemingly more varied: samples of classical records, abstract white noise, twinkling effects, science fiction theme tunes and prehistoric electronica. But the crossover of music from an organic nature and the processed sounds of technology don't leave Behan's work in the same pile as Gravenhurst, nor does he deserve to be tarnished with the same brush as 'folktronic' pioneer, Four Tet. He has instead, found himself at the core of his own, distinguishing sound and it's utterly majestic.
9/10.
Entertainment.ie
One of the great mysteries of music is how ordinary ingredients can be mixed together to produce something magical. There's nothing particularly special about the instrumentation on Jimmy Behan's debut album – just some folky guitar strummings, gentle piano and bubbling electronica. Somehow, however, he's managed to mould it all into a series of beautifully mellow soundscapes that's enough to soothe all but the most troubled of spirits. Anyone who's wondered what Nina Hynes has been up to lately will find their answer here: she provides the pretty vocals on standout track 'Deeper Than Heaven'. A staple member of the Dublin independent scene, Behan's first solo offering has been long awaited – and it certainly doesn't disappoint. It may sometimes be a little too understated for its own good and it'll bore Westlife fans to tears. But in its own modest way, Days Are What We Live In is one of the most impressive Irish releases of the year. Strongly recommended.
Andrew Lynch. 4/5
La Plume Noir
Already a prominent player on the Irish electronic music scene, Jimmy Behan steps into the global field with his beautifully orchestrated, Days Are What We Live In, a ten track electro cruise control ride of relaxation and melodic harmony. This is the fourth release from Elusive Recordings and it further demonstrates the label's refined and sophisticated taste that stands proudly unique against the wide array of electronica music labels. The ease of transition between tracks and the sedation infused into the listener compliment Behan's use of timing and manipulation.
Days Are What We Live In can substitute as a 101 on ambient music. A true sampling of organic harmony with electronic tweaking, creates a timeless mix of vocalized tracks and blissfully rhythmic layers of soft beats and fluctuating yet continuing pitch waves. The mayfly that is featured on the CD's cover depicts a species that lives for one to two days and as a full-grown adult, 2 hours. The second track Mayfly represents an ongoing sensation of progress. A slow and relaxed start delicately paces itself into a showcase of lovely melodies that seem fit for modern ballerinas. Perhaps the journey of the mayfly represented on vinyl a la manipulation of Behan. Just as equally, the constant feeling of pull and progression in the gentlest of manners also makes the sound fit for a cosmic journey in the galaxy of electro-experimentalism.
A talented ability to avoid repetition, a smart sense for sampling, and a soothing addition of new instruments keeps the listener wanting more without realizing. Without the ability to predict the incoming rhythms but yet satisfied with the flow of the sound is what marks Behan as having a truly talented ear. Normal Situation melts out of the speakers with an ease that drifts into the listener and promotes meditative states, just as distinguished ambient should do. By the time the compilation makes it to its final track Under the Woods, one has the feeling of having attended the theater, theater for the mind with a beautiful accompaniment and then, when the lullaby has ended, so have the day's troubles.
Courtney Lochner.
Sonomu
Jimmy Behan's debut starts on a blissful note with Granby Row, despite its rather straightforward rhythm section, leading a procession of high tones. By Mayfly it gets folkier a genuine guitar strums while the lazy electronic production is having its way with melody and texture. Deeper than Heaven adds female singing to this array. The demeanor is laid-back, reclining in afternoon or summer haze, but not completely so till the playful Complete, which artificially resonates with a feeling of being lost in endless possibilities of summer. The title track could easily be the quintessential one with its nice, minimal, calm thrumming shine. From then on till Hanover the album picks up a certain serial characteristic without ever (to the slightest) losing its summer charm, epitomized in the title of the next track Summer on the Wall. It is an oddly even debut album musically, let alone emotionally, and symbolically as a concept, some welcome aspect of which none of the tracks here fall short of conveying. Dandelions, a brief, minimal track, trickles, hums, dripping organic matter and a sample of humanspeak into the mix. Normal Situation is a song again, guitar and piano accompanying the songstress. A more austere, suitably cooler air is emanating from the closing track Under the Woods, a nice minimal hike, ending with semi electric birds chirping. I don't know if it's obvious by now, but this sonic adventure, so self-assured, like owing its existence to some definitive external artifact, artifice or reality, sounds more like a soundtrack of a fictional narrative or film on summer than that of summer itself while literally, apparently, being neither.
Erkki Luuk
The Milk Factory
Some records have the power to transport the listener into weird and wonderful pastures, locking the hustle and bustle of real life out for a moment in favour of smart narratives and heavenly ambiences. Jimmy Behan's first album, Days Are What We Live In, undoubtedly evolves outside of reality.
Behan's contribution to Elusive Records's Eklectra compilation, released earlier this year, gave just a tiny insight into his dreamy poptronic, yet it was enough for his name to be mentioned on about every review. Although Days Are What We Live In is his first proper full-length release, Behan has been an active member of the Irish electronic scene for some time. Often found on producing duties, with a handful of compilations under his belt, he has also played live alongside the likes of Four Tet, Lali Puna, Murcof and Manitoba. Following a split single with Connect Four Orchestra and a first solo EP, both released in 2001, Behan collects on his debut album a series of delicate compositions, often based on fragile acoustic sounds and textures, and carefully layered into rich and voluptuous slices of goodness. Although his sound structures are unquestionably complex, with electronic and acoustic elements finely entwined to the point of sometimes becoming almost indiscernible, Behan shapes them into beautiful pastoral melodies and deceptively simple musical vignettes. From the opening moments of Granby Row, the listener is caught up in swirling acoustic guitars forming melodies over a stubborn linear beat. Perfect introduction to this album, this track pretty much defines the mood for the next nine songs and firmly establishes Behan's sound. Days Are What We Live In may appear melancholic and fragile at first, but soon, touches of intense joy peace filtrate through and its intrinsic beauty becomes overwhelming. Although truly personal, Days Are What We Live In evokes a wide range of sonic realms. Think Four Tet gone for a long walk in the country; think Clue To Kalo with pop sensibility; think Boom Bip bathing in acoustic sounds. Jimmy Behan is all that and much more. As he progressively unveils his world, from the almost naïve Deeper Than Heaven, which features Dublin-based singer Nina Hynes on vocals, to the underrated title track or the sumptuous sonic swathes of Dandelions, Behan brings new emotional tones with each track while maintaining a consistent atmosphere all the way through to create a truly cinematic record.
With this first album, Jimmy Behan demonstrates a strong ability at crafting truly personal soundscapes and developing them across his compositions. Although his approach is not unique, Behan manages to create an exceptionally endearing piece of work with Days Are What We Live In, and promises even grander things for the future.
4.7/5
No Ripcord
I know very little about Jimmy Behan other than that he appears to hail from Dublin and that he creates semi-ambient electro pop in the vein of Keiran Hebden or Lemon Jelly. Of note perhaps is that this work took a year to record – between Augusts '03 and '04. That's not to suggest that Behan is lazy, but without a doubt there's a relaxed Sunday afternoon feel to the album.
We open with little electro noises, looped guitars and synthesized flutes and strings – indeed Granby Row sounds much like the aforementioned Jelly after a handful of downers. He layers in Nina Hynes' folksy, Celtic vocals, and the end result offers a dense patchwork of themes similar to a Keith Jarrett improvisation. Like much of Jarrett's work this is also an album of unstinting positivity. Mayfly is a jangly, saccharine piece of electro chill – Four Tet slowed down and stripped of baroque pretensions. Deeper Than Heaven is a sexy, breathy torch song, with a voice like a normalized Bjork. More impressive still is the title track, slower, more symphonic and generally grander in ambition. Behan chucks in some pianos, and the end result is spectacular. Hanover may remind you of mid-90s Orbital – organic dance music or electrified acoustic, perhaps. Anachronistic, maybe, but it's also a very satisfying sound to revive. The mini-loops and synth harpsichord on Summer on the Wall are like a kitsch – even kitschier – M83. There's even some birdsong for good measure.
Just as things are starting to get a little bit too cloying and sweet Behan ups the stakes with the raucous Dandelions while keeping up the kitchen sink ethos with mad clock chimes. Normal Situation is the track that Air and Daft Punk might record together while sipping cocktails in the garden and trying to avoid doing any real work. And to close, he shows off all his ambition and tricks with the oceanic Under the Woods.
Perhaps best filed under retro-electro chill, this is not an album that sets trends or pushes barriers. What it is, is eminently listenable, clever, well put-together and deeply pleasurable. The first ray of sun this spring.
Ben Bollig. 6 Mar 2005. 7.5/10
Splendid Ezine
I have a bumper sticker on my van that's, in my ever-so-modest opinion, the second-best bumper sticker I've ever seen (The best is "Where Are We Going? And Why Am I in This Handbasket?"). It reads "MINIMALISM: It's the Least You Can Do". Irish electronic music veteran Jimmy Behan obviously has more than a nodding acquaintance with that sentiment, to quite lovely effect.
The CD sleeve's elegant less-is-more approach carries through into the spacious-but-never-empty music. Days Are What We Live In opens with Granby Row, whose heartbeat-like rhythm and restrained piano and guitar flourishes are well offset by headier snippets of wordless female vocals. Granby Row doesn't go anywhere much, but it's strolling in the park rather than being caught in traffic. Up next, Mayfly (incidentally, the brief life-spanned subject of the album cover) is a slightly more dynamic piece featuring drum-kit and intermittent bass undulations that give way to soaring-yet-subtle violins. These are fitting preludes for Deeper Than Heaven, definitely the album's most song-like track. Dublin vocalist Nina Hynes's singing is beautifully fragile without being twee, with fractured electronic piano and string samples forming a counterpoint to her voice while acoustic guitar strums serenely in the background. Deeper Than Heaven isn't necessarily the album's best track, though it offers the most obvious focal point. A careful listener's ear, however, will find much to hear: the echoing slap of a hand drum beneath the piano's tinkle in the title track, the controlled swelling of the strings in Complete.
Sunny, pastoral, gentle, pleasant: all words that could be applied to any part of Days Are What We Live In, yet each one has a distinct sound and feeling. Behan is skilled at conveying a variety of moods while projecting a unified vibe. Too often, good taste is synonymous with homogenization. While the album fades into the background easily enough, it's much more than background music. Like most of daily life, it doesn't demand attention; like the best-lived lives, it leaves you with a quiet sense of contentment.
Sarah Zachrich
Hybrid Magazine
To be perfectly honest with you, I still don't understand why people record instrumental records – unless of course, you are working on soundtrack scoring for a film. But when it comes to Jimmy Behan, I will forgive this cardinal sin and review the record. Because, simply put, this record is amazing. And come to find out, there are some great vocals here, too.
From the word go, I liked this record, even if it was based solely upon how cool and tidy the cover art was. Who ever thought a mayfly could be so beautiful, unless of course you went to college to study entomology. There is something remarkably soothing about the cover art – perhaps it is the color of blue and the light fading. Regardless, it sets up perfectly for the musical experience that one immediately receives when listening to the music. Granby Row is worth the price of the record alone, with its Cocteau Twins-esque vocal sample floating above soft 909 beats and cleanly striking keyboard melodies. Mayfly continues the excellence with electronic meanderings over perfect drum loops. It's a perfect song for a clear summer afternoon, staring up at the blue blue sky. Nina Hynes co-wrote Deeper Than Heaven, and I would guess it is her lending her incredible voice to the track. Not only does the track resonate with light trip-hop tones and lush strings, but the vocals are silky and to die for. I've not been touched with this particular feeling since I first heard Portishead, lo these many years ago.
Days Are What We Live In is an expansive collection of (mostly) instrumental keyboard tracks that resonate with emotion and musical vibrancy. The record is a collection of moments of melodic perfection interspersed amidst a sonic landscape of peaceful wanderings. Fans of mellow electronica, or trip-hop, need delay no further, but go and find themselves a copy of this record! I don't know where Jimmy Behan has been hiding out all these years, caching his musical talents, but I'm glad that he found his way to my ears.
Embo Blake